The future is here, and America is back in the game.



It's just one of the many good things Motor Trend magazine had to say about the all-new Chevrolet Volt as it named the car the "2011 Motor Trend Car of the Year®." The annual award is one of the most prestigious honors bestowed in the auto industry and further proof that it's a new day for Chevrolet, not to mention the entire auto industry. Powered by electricity without being tethered to electrical outlets, the Volt does everything a great car does and, according to Motor Trend, better than any other. It's further proof that today, tomorrow and on into the future, Chevy Runs Deep.
It's more car than electric.



The 2011 Chevrolet Volt. Powered by electricity without being tethered to electrical outlets. It drives gas- and emissions-free for most commutes. But if life takes you a little further, as it tends to do sometimes, the gas-powered onboard generator can take you wherever you need to go. So you can just sit back and drive. Isn't that what cars are for?


More power from a superior battery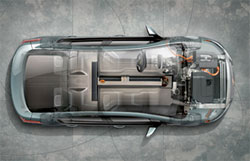 The Volt battery has gone through numerous environment-specific tests, including corrosion and hot- and cold-weather testing and the results were so promising that the 16-kWh lithium-ion battery pack is backed by an 100,000 mile/8-year warranty.



Here are a few more notes on the battery:




Just plug it in to charge the battery, and most people can commute gas-free and tailpipe emissions-free for about $1.50 of electricity per day.

A small, quiet on-board gas generator creates electricity that powers your Volt as you drive for hundreds of miles on battery and gas power.

Lithium-ion cells outperform nickel metal hydride cells (found in today's hybrids) in terms of life cycle

A liquid thermal cooling and heating system keeps the battery at a comfortable temperature as it's being charged and discharged

Commute gas-free on electric for an average of $1.50 a day

Can be set to charge during off-peak hours for greater savings

Your Volt will be fully charged in about 10 hours, depending on climate, with standard 120-volt line, or as little as 4 hours using a dedicated 240-volt line

There's nothing like changing everything.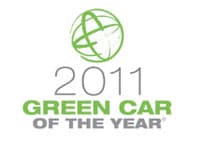 The year of the Volt continues. Green Car Journal has just named the all-new Chevrolet Volt its 2011 Green Car of the Year, the first electric car to ever win the award. The premier magazine on high fuel efficiency and alternative fuel vehicles says, "This has been a long time coming," noting that early electric cars showed promise, but lacked practicality. The Volt runs on electricity for an initial range of 35 miles on a single charge, before a gas generator seamlessly creates electricity for up to 340 additional miles on a full tank of gas.* Practical indeed.

*EPA estimates. Actual range varies with conditions.


The dashboard re-imagined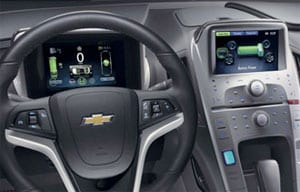 Volt has two LCD screens that display speed, battery power, range to recharge or re-fill as well as an efficiency gauge that gives you real-time feedback. On the center console you'll find a seven-inch diagonal high-resolution screen with touch-sensitive control that helps you get the most out of your Volt. Some features include:


Real-time information on energy usage and powerflow, and it even displays efficiency tips

Screens allow to program the charging schedule based on electricity rate plans

Standard navigation with voice recognition, infotainment and a climate control system


Volt Mobile App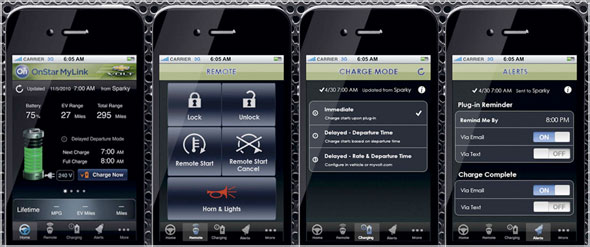 OnStar MyLink mobile app.

Starting this fall, anywhere you get a signal on your smartphone, you can have total control of your Volt. Tap away and, with the OnStar MyLink™, you'll be able to check the battery charge level, available range, tire pressure, remote lock and unlock and even activate the remote start to heat or cool the interior to your preferred temperature. Navigate the interactive screens of the app, and you can change how and when you want your Volt to charge. You can even set up Alerts via text or email to remind you to plug in your Volt, when charging is complete or if charging has been interrupted. The app also provides a single button to access a Volt Customer Advisor who can answer vehicle specific questions.


Thoughtful Efficiency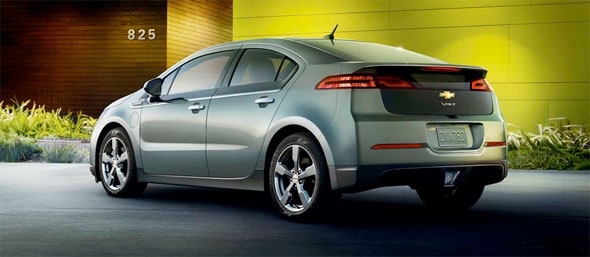 By its very nature, the all-new Volt is engineered to change the face of transportation as we know it. Nearly every component of the Volt has been selected to get the most out of every charge, including:


Aerodynamics that maximize the distance per charge and miles per gallon of fuel

A closed grille and aerodynamic back edges contribute to its fuel efficiency

Energy-efficient Bose® Sound System

Goodyear Assurance Fuel Max tires


At home charging station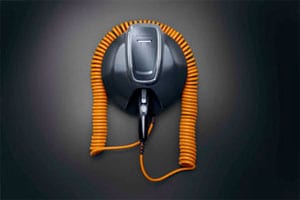 Charging the Volt is as easy as plugging it into any standard 120V household outlet, and in about ten hours, depending on the climate, you'll have a full charged Volt, waiting for you, ready to go. For even faster charging, you could have a 240V charging station permanently installed in your garage. It would require a dedicated electrical circuit, similar to what is used for your clothes dryer, and it cuts charging time to about four hours! If you choose to join the automotive revolution and become a Volt owner, a Customer Advisor will be there to assist you every step of the way. Chevrolet and SPX Service Solutions have begun a partnership in order to provide optional 240V home and business charging stations in the Volt select launch markets.
Once your order has been accepted for production, an advisor will put you in touch with SPX Service Solutions. Their support team will assist you in finding the charging option that fits your needs, including having a Volt-dedicated 240V line installed at your home. To help offset the costs of installing a Volt charging station in your home, many Volt buyers will be eligible for tax credits and/or one of the several special government programs. Click here to learn more about available tax credits.
Innovation everywhere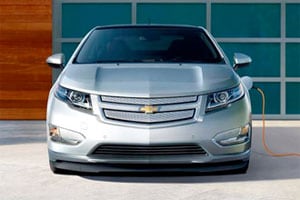 Volt offers the performance and forward-thinking you've come to expect from Chevrolet. Take a look:


Instant, smooth and seamless torque right at the wheels.

Regenerative braking captures the energy from forward motion that would otherwise be lost when the car slows or stops and then converts it into electricity, helping to make the Volt even more efficient to drive.

When running on electricity, the Volt can reach a top speed of 100 mph in near silence. Free of the typical noise of the internal combustion engine, the Volt offers a quieter, more relaxing ride at any speed.
Making the future safer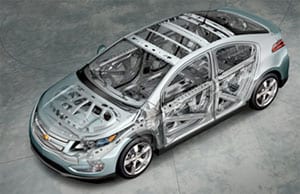 Volt drivers and passengers will be wrapped in a cocoon of standard safety. With eight air bags ready to deploy in an emergency, it's obvious safety is of the highest priority. Joining this built-in safety is an unprecedented five-year subscription to OnStar's® Directions and Connections® Plan including Automatic Crash Response. In the event of a collision, built-in sensors can automatically alert an OnStar Advisor, who is immediately connected into your vehicle to see if you need help sent to your exact location ? even if you can't respond.
Electricity - a more sensible primary fuel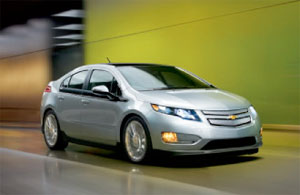 Put simply, electricity is a cleaner source of power. And as technology improves in the generation of electricity, we will continue to see reduced carbon outputs. Advancements in electricity production along with reduction in emissions from electric-powered driving could help make our world a cleaner place.



Why electricity?




Mostly produced domestically and is an inexpensive source of power

Cleaner to use than gasoline

Utilities have the capacity to power millions of Volt vehicles without overtaxing the infrastructure

Electricity is produced by many different sources including renewable wind, solar, geothermal and hydropower.

We're working with utility companies to make sure that everyone has inexpensive and reliable access to charging