Welcome to Felix Chevrolet, Your LOS ANGELES, Glendale and Pasadena Chevy Dealer
The Felix character was borrowed from the popular 1920s cartoon "Felix the Cat" by pioneering L.A. automobile dealer Winslow Felix, who opened Felix Chevrolet in 1921 at 12th Street and Grand Avenue. Felix was a friend of filmmaker Pat Sullivan, whose animation studio created the mischievous feline character.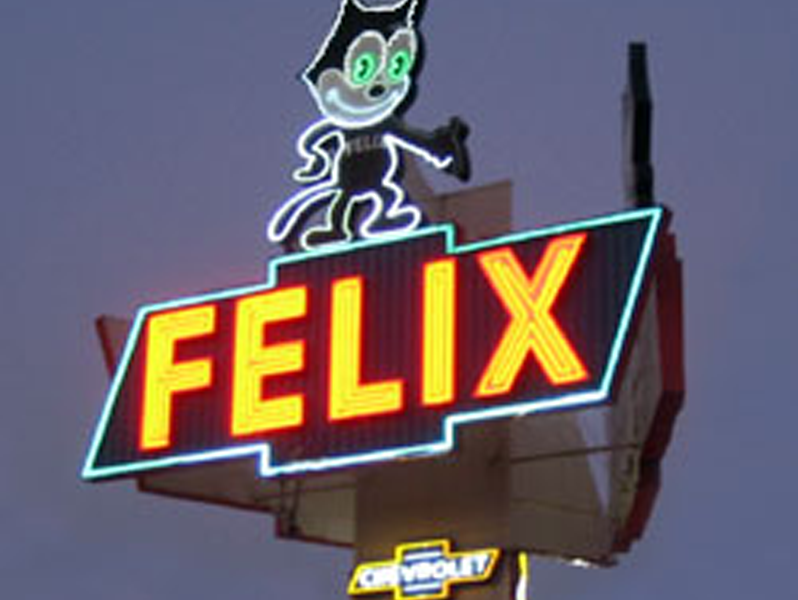 Welcome to Felix Chevrolet , a place where automotive dreams have been fulfilled for 90 years. We want to help fulfill your automotive dream at the most recognizable Chevrolet dealership in America; a place where value and customer service are paramount.
Felix Chevrolet is a family-owned business. That means our reputation is on the line every day, whether it's selling a new Chevrolet, fixing a customer's car correctly the first time in the service department or having the right Chevrolet part available for the do-it-yourself mechanic. We work hard to protect that reputation and we do it by focusing on our customers' needs every single day.
If you see a vehicle on our website that interests you, please come by for a visit. If you live in the LOS ANGELES area, you need to say you've been to the most historic car dealership at least once, right? If you have the time, I'll personally show you how we're transforming Felix Chevrolet into the greenest car dealership in the country and how we plan to be the first "Net-Zero_Energy" car dealer in the state of California.
Felix Chevrolet is a very special place that offers honest value and is committed to satisfying your needs. We've been part of the fabric of LOS ANGELES for 90 years and we want to share that with you. Stop by and become a Friend of Felix.